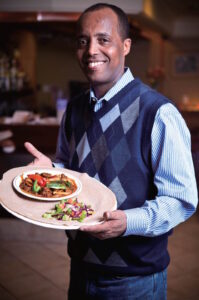 WASS Electronics was founded by Wassie Mulugeta.  Wassie has been developing and researching a better way for preparing and cooking Ethiopian Injera. In 1999, Wassie began working on an Automated Injera cooking Machine that is able to produce 100's of Injera per hour.  This project was completed in 2011 and is scheduled. In 2002, Wassie designed the WASS Electric Mitad which was designed, manufactured and sold in North America. This unit was discontinued due to the ineffectiveness of the Analog Temperature Controller.  In 2012, Wassie had his dream of researching and developing a new generation Digital Electric Mitad come to fruition.  By addressing each problem with the Analog Electric Mitad, Wassie now has is offering for sale the 16″ WASS Mitad Digital Grill. The new design features a digital thermostat which provides a consitent cooking temperature, no down time, energy saving and longer life. The WASS Mitad Grill is built to meet the standards of the commercial restaurant industry but simple enough to use in your home kitchen.  The Grill is currently being used 8 hours everday for over a year by restaurant owners who make Injera for business.
The WASS Electronics, Inc. Mitad 16″ grill is a professional grade cooking tool.  With over 12 years of Research and Development the 16″ grill is ready for your home or restaurant

kitchen.  Having worked to ensure the best cooking surface, and electronic controls, this WASS Electronic's designed and produced cooking tool can withstand the rigours of hours of use.
About WASS Electronics by WASS Electronics, Inc.