Lefse is a traditional soft Norwegian flatbread. It is made with potatoes, flour, butter, and milk or cream. It is cooked on a large, flat griddle. Special tools are used to prepare lefse, including long wooden turning sticks and special rolling pins with deep grooves.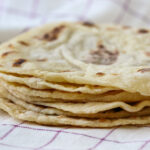 Cover potatoes with water and cook until tender. Run hot potatoes through a potato ricer. Place into a large bowl. Beat butter, cream, salt, and sugar into the hot riced potatoes. Let cool to room temperature.

Stir flour into the potato mixture. Pull off pieces of the dough and form into walnut size balls. Lightly flour a pastry cloth and roll out lefse balls to 1/8 inch thickness.

Cook on a hot (400 degree F/200 C) WASS 16" Digital Grill until bubbles form and each side has browned. Place on a damp towel to cool slightly and then cover with damp towel until ready to serve.